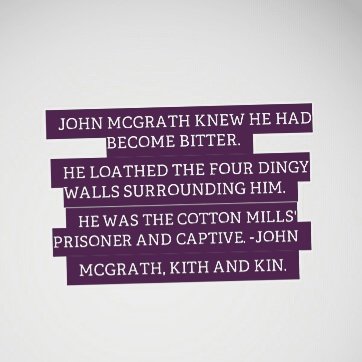 I thought it was high time that I posted another teaser from my new novel, 'Kith and Kin.' I am always on the look out for readers and book reviewers. 'Kith and Kin' only costs £1 on Amazon kindle which is LESS than a cup of coffee!
You can also view the same image on my Instagram page- https://www.instagram.com/p/BLTJpQbgum-/?taken-by=se_bownsfiction
Blurb-
Downtrodden and disheartened John McGrath, a malnourished eighteen year old cotton mill worker longs to escape the miserable working environment that has suppressed him for years.

Trapped under the tyrannical eye of the factory foreman Mr Hopps, John finds solstice in the wisdom of his best friend and fellow worker Caine Davies, who assures him that times will change.

A refreshing new chapter is offered to John in the form of ladies' companion, Maira MacWilliams who reinforces his love and trust in others. With his new found confidence a career pathway is opened and better prospects are on the horizon. John's life will never be the same again, but can happiness have a price?
You can purchase the novel on Amazon- 
(UK) https://www.amazon.co.uk/Kith-Kin-Sophie-Bowns-ebook/dp/B01LYS9LHA
(USA) https://www.amazon.com/Kith-Kin-Sophie-Bowns-ebook/dp/B01LYS9LHA
You can also follow my updates on-
Twitter- https://twitter.com/SE_BownsFiction  @SE_BownsFiction
Instagram- https://www.instagram.com/se_bownsfiction/
Facebook- https://www.facebook.com/SEBownsFiction/
🙂
© Sophie Bowns 2011-2016